| | |
| --- | --- |
| Article number: | 4580029082134 |
| Availability: | In stock |
| Delivery time: | In Stock at UK Warehouse |
Uses Original Marui Adjustment Lever so you don't have to detach mag to adjust hop. Hop can now be adjusted on the side like original hop adjustment, quickly without removing the magazine.
Lambda Hop Chamber designed to be used with AEG buckings and barrels.
How to operate Hop Adjustment:
Please use Original Hop lever from Tokyo Marui VSR.
Sliding the lever forward to muzzle reduces the hop. Sliding back towards trigger increase hop.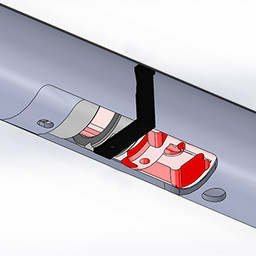 Double Ball Stopper

This chamber has 2 ball stoppers so BB will hold on 3 axis (from Magazine and 2 stoppers)
BB stoppers are machined from aluminium to resist wearing.
After tests no effect was seen on BB's; such as damages, scratches and cracks.


Instructions are included in the package.
You can read and familiarise yourself with installation before doing the upgrade.